Boxing is a notoriously difficult sport to bet and make money on.
Whilst it's massively popular from a spectator's point of view, many professional bettors won't invest an awful lot of time into it as there are too many fights that are too one-sided to make any real money.
To give you an idea of how unbalanced these fights can be, below we've a picture of a betting card from an upcoming fight night in the UK.
See below:
As you can see, in each of the fights above the longest price that we can find for the favourite is that of 1.40. Some of the bets are even as low as 1.03, which is just crazy. To make money from this you either need to bet seriously big, get very lucky, or get creative and look at other markets.
Round betting is one of the markets that a lot of punters move towards in this situation. This is where you select the round that you think the fight will be stopped in. It offers much more generous odds across the board and can create bets that offer some value from fights that's offer very little value elsewhere.
Different types of round betting markets
There are a few variations as to how these betting markets can develop, which we have highlighted below:
Single round – This market is where you choose a single round for the fight to end in. The fight has to finish in that specific round for your bet to win.
Round groups – For this market you are able to select a number of rounds that the fight will end in. For 10+ round fights, this is usually in groups of 3 rounds, but shorter fights might offer these in groups of 2.
Over/under total rounds – This is where you can take the over or under on a line for the total number of rounds in that fight. The bookmaker might have this at 6.5 for instance, so if you take the over you need 7 or more rounds and if you take the under you need 5 or less.
Odd/even – This is where you can choose if there will be an odd or even number of rounds. So a stop in round seven is a win for the odd bet, a stop in round 4 sees the even bet win, etc.
How round betting works
On the most basic level, you need to be able to correctly choose the round or the group of rounds that you think you fight will end during.
Once you have selected this round/group of rounds, then your bet can be put on.
You then need either a KO, TKO, disqualification, or a stoppage by the fighter's corner to warrant a win in that round.
If the referee stops the fight in between rounds, the round that the fight will be paid out on will be the previous round, as the next didn't actually begin.
Round betting strategy
Boxing can be a tough sport to call, and it's not always easy to see where the value comes from. But round betting offers a greater opportunity to make some money, and here are a few tips that should help you make the best of this bet type.
Fighter style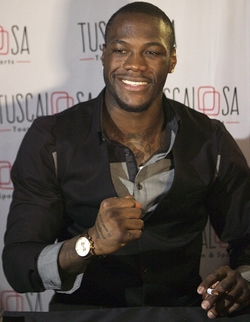 The first thing to note is the fighting style of each of the fighters. It's important to note each of them as it allows you to see how they might take on the fight specific to the person they are opposing.
Explosive fighters are often keen to get an early knockout and therefore exert a lot of energy early on. They know that if they connect early, the fight is going to be over very quickly. Deontay Wilder is a fighter like this, and some would even describe him as more of a brawler than a boxer.
If we were betting on a Wilder fight, then for the most part we would be looking at early round knockouts. From 42 professional fights he has had 41 wins and 1 draw, but the most telling stat here is that only 5 of those fights have gone past the 5th round. He's also had 21 1st round knockouts as well, so that sort of info needs to be noted. All of this information for Wilder is pointing at early round finishes.
Let's compare Wilder to someone like Tyson Fury. Now, Fury is seen as more of a proper boxer. He's quick, light on his feet, and moves around the ring a lot. They are similar in stature, but realistically, very different fighters.
From 29 fights (in 2019), Fury has won 28 with 1 draw. But Fury has won 8 of those fights by decision, which means that these rounds have gone the distance and then he's won on points. 17 of Fury's fights have gone over 50% of the match, which again, is much higher than someone like Wilder.
Bet's for Fury would likely be targeted at the later rounds as a result. He isn't someone who's going to go in all guns blazing. He will be methodical in his approach to the fight, and as a result, you have to do the same when you are betting.
Fighter weight
Generally, the heavier the fighter, the more chance there is of a knockout. The heavyweight division has the highest percentage of KO's of any other boxing weight on the professional circuit. 73% of heavyweight fights see a KO.
The lowest number of KO's in any weight class was that of strawweight, which is the lowest weight in which you can box professionally. Just 49% of these fights finish in a knockout.
The reason for this all comes down to power. The bigger the boxers, the more explosive and powerful they can be, and thus the more chance they have of knocking someone out. A well-timed hit by a large boxer will always overcome a strong jaw, and even if it doesn't work at first it will over time.
The lighter weights don't have that power simply because they are smaller. They are more tactical, and they work with combinations and volume of punches rather than trying to knock someone out in one punch.
Here is a full breakdown of the weights and percentage of knockouts per fight.
| Boxing weight | Percentage of knockouts |
| --- | --- |
| Heavyweight | 73% |
| Cruiserweight | 67% |
| Light Heavyweight | 62% |
| Super Middleweight | 66% |
| Middleweight | 56% |
| Super welterweight | 58% |
| Welterweight | 68% |
| Lightweight | 59% |
| Super Featherweight | 59% |
| Featherweight | 61% |
| Super Bantamweight | 65% |
| Bantamweight | 60% |
| Super Flyweight | 64% |
| Flyweight | 64% |
| Junior Flyweight | 56% |
| Strawweight | 49% |
As you can see, it's not a perfect case of the heavier the weight, the more knockouts there are, but the trend does follow that sentiment from the bottom to the top.
Applying this data to round betting will help as it allows you to first eliminate any points or decision-based market, and then you can target weight classes that might help with knockouts. Whilst we don't have exact data, we'd be pretty confident to say that the higher the percentage of knockouts that there are, the earlier they will come in fights.
So, as heavyweights have a higher percentage, we would assume that the majority of these would come earlier in the fight compared to that of say Bantamweight, with a much lower percentage of knockouts that are likely going to be later on, as people hold out for longer and that explosive one punch power isn't as prevalent.
Whilst not boxing, the exact same trend follows suit in UFC fights, with Heavyweights seeing 49% knockouts and Flyweight seeing just 22.5% knockouts.
Use stats-based sites
The number of stats-based boxing sites are continuing to grow. In fact, they are growing in pretty much all sports, but it's vital that you utilise them to form bets.
BoxRec.com is one of the biggest and the best right now, and it offers a huge insight into thousands of fighters on their database. It allows you to look at past fights in detail to see how they performed.
For round betting we want to look to see if there are any trends as to when fights get stopped with any fighter. For example, some fighters will target the middle round of the fight to take advantage of their opponent by setting them up early.
Alternatively, it might be that a certain boxer had lost several fights later on. This could be due to fatigue, so you might look to back their opponent if the fight goes to later rounds as they can take advantage of this statistic.
Focus
Finally, we want to mention a fighter's focus. There are times when a fighter is laying it all on the line for a title shot, and there are times when you've a journeyman who is fighting in their 100th fight. Both will have very different goals for the fight.
The journeyman is likely just happy to pick up their pay cheque for turning out. The fighter on the way up is going to want to prove a point.
Try and note what each fighter has to lose and then work out a potential approach and result from that in terms of what round the fight might be stopped. The journeyman won't be too fussed if they lose, but they will want to go out with pride and try to hang on as long as possible.