Draw no bet (DNB) is a bet that is offered on all but the smallest games, and by all but the worst bookies. In other, more positive terms, it will be available with all the bookies we work with, for almost every match going. It is a bet on who will win a specific game but where the draw is essentially removed from the equation entirely. As such, you will not see the draw as a possible option.
If we consider a game between Merseyside rivals Liverpool and Everton, taking place at Anfield, we might see the Reds priced as big favourites. Typical match odds (also referred to as 90 minutes, to win, 1X2, HDA and others) prices might be Liverpool at 1/3, the draw at 4/1, and Everton at 7/1.

In the DNB market, you will only see the option to back Liverpool or the Toffees. Example prices based on those match odds would be Liverpool 1/9 and Everton 5/1, though across various bookies you might see the Reds between 1/8 and 1/15 and the Blues between 9/2 and that 6/1 price quoted.
Unsurprisingly, if the team you pick wins, your bet is a winner and you are paid out in full at the odds stated. So should you back Liverpool, you get paid at a measly 1/9 in the draw no bet market, compared to a far more substantial 1/3 had you opted for the match odds. The answer to why the price drops so much is because of what happens should the game end in a draw.
With a standard bet on Liverpool to win, where the draw was available to back, you will lose if the game ends with the scores level. So £100 at 1/3 leaves you £100 down. In contrast, had you wagered £100 at 1/9 DNB, you get that £100 stake back if the clash ends in a stalemate. The draw, as the name of the market says, is classed as "no bet" and so your wager is a void, also known as no bet, or a push.
Draw no bet is not among the most mainstream of wagers out there but nor is it especially uncommon. It is popular among fans who are placing accas, and also for punters who fancy a team to win but just want that little bit of added extra insurance should they not quite manage to get it over the line, literally and metaphorically.
In simple terms, if your team win, you win, but at smaller odds; if your team loses, you lose; and if the game ends in a draw you get your stake back and thus break even. As such, this market is straightforward enough but we will now look at some of the more complex aspects of it and how it can be used, as well as some similar markets and also stats around the draw.
When to Use Draw No Bet
Different punters will opt for this market at different times. The simplest application for it is when you just want a pick at relatively short odds. This might be if you want to qualify for a welcome bonus or complete the wagering requirements attached to a particular offer, or simply because you want a wager that has less chance of losing, even if the potential payout is relatively small.
The only word of caution concerning using DNB for bonuses is that some sites may not allow this market, either for a qualifying bet or for actually using the freebie. Also, of course, whilst finding a low-odds pick is good, you must always make sure it meets any minimum odds that may be required.
However, where you just want a bet with a smaller chance of losing, draw no bet is certainly well worth considering. With the draw being classed as no bet and seeing your stake returned, unless you back a serious outsider, your odds of either winning the bet or breaking even are decent.
What Happens with DNB in an Acca?
Because of this, draw no bet is a popular market to use within an accumulator. You might opt to place a fivefold of all DNB selections, or you might instead pick match odds for three games and just use DNB in two you are less confident about. As with all markets, when it comes to accas and other multiples you are free to mix and match across different markets and even various sports.
One common question those unfamiliar with DNB have, however, is about what happens with an acca where DNB selections are included and the game is a draw. The answer is pleasingly straightforward: that leg is effectively removed from the acca and the rest of the bet stands and is calculated accordingly.
Imagine you did an acca on all 12 games from a round in the Championship and did all 12 in the DNB market. The wager starts as a 12-fold and perhaps you did a £1 stake with potential returns of over £822, which would be a typical enough sum with a range of favourites and slight underdogs. Any games that are drawn are no bets and are therefore removed from the equation.
Let us imagine that there were two draws. Your £1 12-fold becomes instead a £1 bet on a 10-fold acca, with a potential return of 252/1. If you called those 10 games right, you would be looking at a very nice win of over £250. In contrast, as with any acca, just one wrong selection would see your whole bet lose.
Draw no bets are well worth considering for your next acca because they give you a margin for error that is not usually there when it comes to this type of wager. As with a DNB single, the odds are smaller, but many punters who love the small-stake-high-reward potential of an acca feel this is well worth it. Moreover, even with picks at around evens or odds-on, the returns from an accumulator can still add up quickly.
Landing any acca – even a double – is often harder than it can seem. However, with DNB you have a greater chance as you are only choosing between two possible outcomes, the home win or away win, rather than three. In addition, if one or more legs don't win, your whole acca isn't lost, at least not if those games are draws, and your bet still has a chance.
DNB Alternatives
As with many markets in the world of sports betting, when it comes to draw no bet, there are similar, alternative options that might be worth considering. These include:
Asian handicap +0 – many unfamiliar with handicap betting and in particular this option may well wonder what the point of a handicap of nothing is. Logic would suggest that a zero handicap is the same as there being no handicap at all. However, an Asian handicap is one where there are just two options and in this instance, those are Team A and Team B. In the case of the draw, the handicap is applied and the match remains a draw but as this outcome was not offered, the bet is classed as a push. This means that this wager is 100% identical to the draw no bet market, although strangely the same site may offer different odds in both markets, so it is worth checking both
Match odds – in many ways this market, already discussed, and also well understood given it is the most mainstream bet you can make, is very similar to DNB. That is especially the case if you do not want to back the draw, as you are simply backing the same outcome as with draw no bet – your favoured team to win – simply at higher odds
Double chance – we have a separate article explaining more about double chance but this bet essentially allows you to choose any of the two possible outcomes in a game, home win, draw, or away win. You can back Home/Away, which isn't necessarily that similar to DNB, but if you opt instead for Home/Draw, or Away/Draw, this certainly is a comparable wager. In this market, the odds are lower than DNB but with the draw you don't just get your stake back, but get the winnings as well, paid at the same odds as if the team had won
Asian handicap +0.5 – as explained in our Double Chance article, an Asian handicap +0.5 bet is exactly the same in practice as double chance for that team and the draw. The odds are sometimes better than the double chance equivalent though, so if you are considering double chance as an alternative to DNB, be sure to have a look at this Asian handicap too
Draw No Bet Rules
When it comes to drawn no bet, most of the standard football rules apply, so this wager does not include extra time. If the game ends level after 90 minutes and stoppage time, wagers will be no bet, and stakes will be returned. The only rules that could catch punters unawares are the ones we have already touched on.
First, as said, when it comes to any accas that include DNB, those legs will simply be discounted from the accumulator in the event of the game in question ending with the scores level. Equally, as said, you should always check the Ts and Cs of any free bet to make sure that DNB is a valid market, both for a qualifying bet and/or the free bet itself.
One last point, not yet mentioned and related to the above, is how DNB legs of an acca that end in a draw could affect certain promotions. Football betting sites may have a promotion that offers some form of insurance, money back, or enhanced odds for accas. In this instance there will usually be a minimum number of legs required and there may also be a minimum odds requirement. If you include a DNB selection that ends in a stalemate and thus a no bet/void, this could reduce your effective legs/odds and mean you miss out on whatever promo you thought you were utilising. Once again, check the specific terms of any offer before confirming your bet.
DNB Stats – How Often do Games End in a Draw?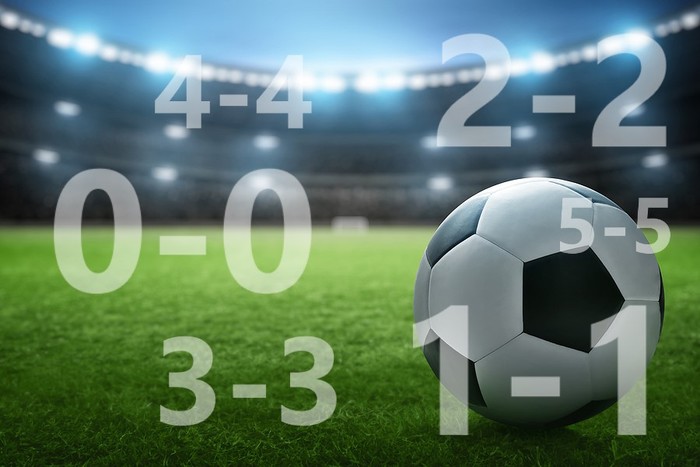 When using this market, ultimately your aim is the same as it would be in the match odds/90-minute betting: to win you have to select a team to win the game. However, when deciding whether to plump for DNB over match odds or double chance, understanding how likely the draw will be is key. If you deem a draw highly likely, then perhaps the double chance bet might make more sense; while in contrast, the less likely a draw is, the more plumping for the higher odds on the outright win via the match odds could make sense.
Every match is different and you must assess each game on its merit, but looking at how often draws occur in general is still worthwhile. Additionally you should look at how often each of the teams playing tend to draw matches and how often they have drawn in recent meetings with each other. So, how often do games tend to end in a draw?
Draw stats vary by league and over time but as a general rule the higher-scoring a competition is, the less likely a draw becomes. This is logical because if a match has six goals, there are many different possible results and only one, 3-3, is a stalemate. In contrast, if there are no goals, there is only one possible outcome and that is a draw. With two goals a fixture could be 2-0 to either side, or 1-1, so one-third of the possible outcomes are draws.
In general, if we restrict our analysis to the last 20 years or so, draws tend to happen around 20-30% of the time, across all major leagues around the world. However, as the Premier League is the competition that punters bet on the most, let us look in more detail at how often draws happen there.
In 2022/23 there were 87 draws; that equates to 23% of the 380 fixtures that make up a PL season. Below we can see the stats for each of the last 10 campaigns up to and including the 2022/23 season.
| Season | Draws (%) | Average Goals per Game |
| --- | --- | --- |
| 2022/23 | 87 (23%) | 2.85 |
| 2021/22 | 88 (23%) | 2.82 |
| 2020/21 | 83 (22%) | 2.69 |
| 2019/20 | 92 (24%) | 2.72 |
| 2018/19 | 71 (19%) | 2.82 |
| 2017/18 | 99 (26%) | 2.68 |
| 2016/17 | 84 (22%) | 2.80 |
| 2015/16 | 107 (28%) | 2.70 |
| 2014/15 | 93 (24%) | 2.57 |
| 2013/14 | 78 (21%) | 2.77 |
| 10 Year Average | 88.20 (23.21%) | 2.74 |
So as we can see, draws occur in the PL around 23% of the time, or slightly less often than once every four games. That means that a typical round of fixtures in the English top flight will usually have two or possibly three games end with the scores level and see DNB wagers deliver a return of stake.
There isn't a great deal of variance either, with the 10-year figure ranging from a low of 19% to a high of 28%, but with seven of the 10 seasons only seeing a range of 21% to 24%.