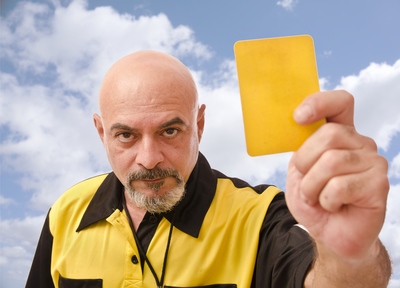 The bookings or cards market offer some fantastic betting opportunities for punters. It's another market that has seen considerable growth over the last few years and we would definitely say that it's part of the 'new breed' of football bets.
It may seem a bit of a strange inclusion to the site but it's actually an area that you can apply a fair amount of data to when finding games or bets that are going to be profitable. The number of websites that now offer a wide range of statistical and archived data on bookings is increasing, which in itself highlights the demand for people wanting to know about them.
The bet types in this market are all based around the yellow and red cards distributed to each team. There are a number of player and team markets that you are able to bet on, and they offer a great alternative to match result and game-specific type bets.
Different markets
The number of booking markets seems to grow each week but they aren't all available all of the time; however, there are a core set of markets that you can bet on with pretty much all of the bigger bookies.
It's worth noting that you won't get access to all of these with each game, but any games in the top flights of Europe's major leagues should usually see them included.
Booking points – One of the most common markets is that of booking points. Points are awarded for a yellow card (usually 10) and a red card (usually 25 points), so this market often allows you to take the over or under on a certain number of points in the game. The totals are cumulative of both teams, unless otherwise stated.
Number of cards – This is the cumulative number of cards shown in a match. Both red and yellow cards count equally towards this. You will be asked to take the over or under for the line set by the bookmaker which will be represented as a fraction. For example, over/under 9.5 cards.
Card handicap – This market will apply a handicap to one team. You can also take the tie plus a team in this as handicaps are worked as whole numbers.
Asian handicap – Similar to above, but with Asian Handicap there is no tie result as each team is given +/- 0.5 cards, and as there is no such thing as half a card you will always be above or below the handicap chosen.
First card received – This market is betting on a certain team to receive the first card of the match. You can also bet on 'no card' for games that you think will be very clean and not produce any yellow or red cards.
Time of first card – The bookmaker will set a time in the match and then you need to choose before or after that time for the first card to be shown.
Team cards – You are able to choose the over/under on how many cards one team will get for that match.
First 10 minutes – A simple market where you bet on whether you think a card will be shown in the first 10 minutes or not.
A red card in the match – Bet on whether a red card will be shown in the match at any stage for either team.
Player to be carded – This is where you can choose individual players to be carded at any time in the match.
Player to be sent off – You can choose specific players to be red carded at any point in the match too.
Strategy
There's a lot to bet on with card or booking markets and you can get quite creative as a punter in terms of finding a bet that suits the game. Here are a few strategies that allow you to find some good value bets for betting on bookings.
Analyse the referee
The first place to start, and actually one that many people forget, is checking out who is refereeing the match. Some referees are more prone to showing cards than others and some ref's are so well known for it that they come with a bit of a reputation.
You can actually access quite a bit of data on referee's, especially from the bigger leagues across Europe such as the Premier League. The image below is taken from Whoscored.com, who are a great resource for these types of stats on refs.
The most obvious stat to take from this would be the number of yellow cards that the referee issues per game. As you can see, someone like Mike Dean has a high rate of 4.45 yellow cards per game; compare that to someone like Graham Scott, who brandishes only 2.24 yellow cards per game, and that is going to have an effect on your bet.
Another good bit info that you can take from the referee stats is the time that they brandish the first yellow card. Often, they are encouraged not to book players too early as this sets the tone for the game and bookings can start to get out of hand. So, if you can find data that shows how early they tend to book players then this could be valuable info.
Once you have found this data you can start to look at market's that it would apply to. The time of the first card market would be an obvious choice and one well worth checking out as you can see any trends that might occur and then work out the value of the line that the bookmaker is offering for this market.
Intentional bookings
In most leagues and cup competitions, you find that after a player has racked up a certain number of bookings, they are given an automatic ban. This is punishing the player for persistent fouling or unsportsmanlike behaviour throughout the season.
There have been many occasions where players have taken a strategic intentional booking, usually later on in the match, to make sure that they miss meaningless games rather than big games.
For example, let's say that a player is in the group stages of the Champions League. They have 4 bookings to their name from 4 games and if they get one more, they will get a one match suspension. The player has two group games left and their team has already qualified. It's in the team's best interests for that player to get one more booking in the 5th game, which means they would miss the unimportant 6th group game, because then he will definitely be available again for the knockout games.
These booking suspensions reset after the ban meaning that the player can continue as before without fear of being suspended.
It's important as a bettor to know the rules of the competition and the players that might attempt this to find these value bets.
Utilise team and player stats
We've mentioned the importance of stats from a referee's point of view, but you can get an equally impressive amount of data for both player and team booking stats as well. In fact, this section is something that should be applied to all booking and cards bets. It's free information that can easily be found online, so there is no excuse.
You can see an example of what team stats might look like above. It highlights the average number of yellow and red cards per game for that team. What's great about this is that you are also able to filter this by home and away games, so you can really dial in your research.
One useful thing to note is that a bit of exploration here will allow you to see how certain leagues around the world differ in terms of bookings.
As you can see from the small example above, La Liga in Spain has a high number of bookings per game compared to other leagues. In fact, the who first page is made up of teams from La Liga, Serie A in Italy, and just one team from Ligue 1 in France. We aren't telling you what to bet on, but if you're not looking at these two leagues for this market then you really need to have a rethink!
Player statistics offer a good range of data as well, and using this information you can see who you might target for individual markets. The ratio highlighted on the screenshot above is the number of yellow cards averaged per player per game. You can see that Fabian Schar averages 0.5 yellow cards per game, which is 1 card every 2 matches, so he's 50/50 to get booked – what are his odds compared to this data?
It's important to view this taking into account home/away and even the tournament or league they are playing in as well. The deeper you can dig with your stats the more data you can apply to your bets, and therefore, the more value you are able to extract from the bookmaker.
Defenders most likely to be booked
Defenders are the most commonly booked position on the football pitch. As you can see from the player graphic above, 4 of those 5 players are defenders and this theme continues as you go on.
It's reported that players who make 4 fouls in a single game have a 60% chance of picking up a booking; if this number rises to 7 fouls, then they are almost guaranteed to get a booking.
You can use a lot of the stats websites to search through players that give away a high number of fouls/free kicks. You can also look at previous games to see what sort of fouls they give away and if they follow a certain trend against a certain type of opposition.
For example, smaller defenders actually make more fouls on bigger forwards as they are over-compensating for size, whereas larger defenders will foul smaller, quicker forwards as they often can't keep up with the pace of the smaller player.
Temperament in a hostile environment
Sometimes you need to look beyond the stats and the data that is on offer and trust your gut feeling for the occasion. You may crawl through plenty of data and not see a certain player's name crop up, but you know they are capable of blowing their lid in big games or derby's.
These games can be between big rivals or matches where opposition fans are known to get on top of a certain player, maybe someone who has played for both teams. An obvious example that springs to mind would be Mario Balotelli from his time at Man City in the Premier League.
Balotelli managed 6 yellows and 1 red card from just 17 games in his first season with City and then 4 yellows and 2 reds from 23 games in his second season. Now these numbers aren't massive compared to some, but most bookings were at times when his team were struggling and he basically lost his head.
If you can target players that might not stick out in terms of stats then you are likely going to get a much better price than a lot of the obvious picks too. Real life knowledge comes in handy here.
Target weaker teams who get more bookings
You will find that the weaker teams in most leagues will be the ones that make up the most bookings within the league.
The main reason behind this is that most bookings come at a time when you don't have the ball – it's hard to foul someone when you are on the ball. Better teams have more possession than the weaker team in most games, which means more chances for fouls and in turn, bookings.
Another reason for this is that if one team has much more ability than the other, the less able team will be scrabbling to keep up and find themselves on the backfoot more frequently, and this is when players get desperate and start making bad decisions.