Whether picking the winner of a rugby match is too close to call, or you simply want to mix up your betting experience, points betting is a very popular alternative to the main 'to win' market. At its core, it revolves around predicting the number of points scored in a rugby match, or sometimes the timing of them. This can be either the total combined number, the number scored in a particular half or just the total for one specific team. With many points-related markets available, it offers a unique and dynamic way to enjoy the sport.
So, whether you're a seasoned rugby fan or just starting to dip your toes into the sport, rugby points betting can add an extra layer of excitement to your viewing experience. Unlike in some sports, there are numerous ways to score points in rugby whether it be tries, conversions, penalties or drop goals. They all count for the purposes of points betting too, so it can only take one small moment to make or break your bet.
Despite the diversity of the scoring system, points betting in rugby is fundamentally the same as in any other sport that operates on a points basis. Your job is to make an informed prediction on the points total that will be scored in the match (or part of a match) and then hope for the best. For many points betting markets, the choice is one of two similarly priced (if not the same) options, either 'under' a points total or 'over' a points total. For example, you might see over/under 45.5 points at 5/6 odds for both outcomes. The reason a .5 figure is regularly selected as the threshold is that the actual number will always be lower/higher, meaning there is no possibility of a tied outcome.
This is not the only way of betting on points though. 'Alternative' points markets still provide two options, but they use different over/under figures to create shorter and longer odds. To find bigger odds, you can also find points markets that present options in bands or ranges. So rather than over/under 45.5 as used before, you could choose between 35-41, 42-48, 49-55, 56-62 and so on, for example. The smaller the range, the greater the odds will be, and sometimes various ranges will be supplied.
The biggest selection of points-related markets will focus on the entire game's score. For some larger rugby fixtures though you should be able to find various options just relating to a team or the first half. This means you can place bets such as total team points or over/under first-half points. If you want to bet on just the second half, you will normally have to wait till the match begins to place an in-play bet. When it is pre-game, most bookmakers only supply odds on the first half. You can also often bet on how many points just one of the teams will score in the match, or a particular half.
Other Rugby Points Betting Markets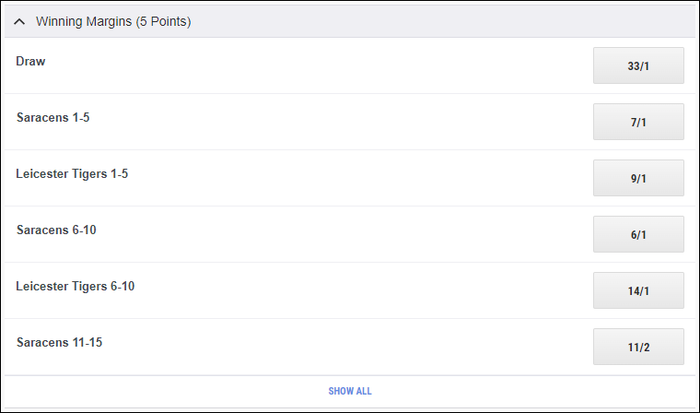 Race to X Points – For this market, you are betting on which team will reach a set points milestone first, for example 10 or 20. You may have the option of betting neither if you do not think either side will reach the total
Total Points Odd/Even – A very easy bet as you just need to guess if the total points scored will be an odd or even number
To score 0 Points – A bet on a team not to score a single point in the match. This bet can either be for a specific side or it can apply to either team, depending on the market selected. A very similar market is 'to win to nil' where you pick the side you think will win without conceding a point
Handicap Betting – With handicap betting, you will back a team to win but with a handicap points value applied. This can be either plus or minus points depending on the bet. If you were to back a team with a +4.5 handicap and they lost the game 18 – 20, this would be a winning bet as with the handicap applied the score becomes 22.5 – 20
Winning Margin – How many points will a specified team win by. This market is usually offered in bands so team X to win by, 1-5, 6-10, 11-15 etc
First Scoring Play – By what method will the first points in the match be scored e.g., try, penalty, drop goal
Highest Scoring Half – Simply, which half of the game will see the most points scored
Team Highest Scoring Half – Similar to above but here you will be betting on the team responsible for recording the largest single-half points total
Rugby Points Betting Rules
Points betting markets are rarely too complicated so there will not be many times you have a query about a bet settlement. The few rules that do apply to points-related markets are included below though. Note that policies can vary by bookmaker and this is just to serve as a general guide. If you have any doubts or questions, contact the bookmaker you placed the wager with.
Two-Way Markets – If no tie is offered for a points-related bet but the end result is a tie, all bets will be void. If it is a three-way market and therefore a tie is offered, any bets not placed on a tie would be classed as losers, in the event of a tie
Extra Time – In knockout tournaments some matches may go into extra time to determine a winner. The points scored during these additional periods are not included in the total points for betting purposes
Abandoned Matches – If a rugby match is abandoned before the completion of a specific time, bets are usually void, provided the market has not already been settled (for example where you backed over a certain amount of points and that value had already been met when the game was called off)
Postponed Matches – In the case of postponed matches, bets may remain valid provided the match is rescheduled within the next few days
Strategies for Rugby Points Betting
No matter which points-related market you want to bet on, there are certain strategies that are wise to follow. These apply if you are betting on rugby league or rugby union as it is general guidance rather than being specific to one code.
Team Form and Stats
Before placing any bet, a look at the current standings and form book is crucial. Just by looking at a team's average points scored and conceded a game will get you off to a good start. You can then choose to look at just their first-half stats to see if there are any noticeable differences between the halves. Similarly, it is worth a quick look to see how points differ when playing at home or away. While overall standings are useful, a team might be playing a lot differently now compared to the start of the league/competition. For this reason, you should put more weight on recent results.
Scoring Patterns
Reviewing historical data can reveal scoring trends in matches involving specific teams or in particular competitions. While this is worthy of some investigation, the further back you go the less valuable the information becomes. Looking at matches over the past few seasons is sensible but it is rarely worthwhile going back much further than this.
Weather Conditions
Research has found that there is a significant negative correlation between a decrease in the temperature and try frequency (and subsequently the number of points scored). The proposed reason for this is that playing attractive passing rugby is difficult in winter conditions where the ball is getting wet, players have less grip etc. So temperature, and perhaps even more so, wind and rain, are definitely elements you will want to bear in mind before placing a bet.
In-Play Betting
Most bookmakers will include rugby matches on their in-play page, allowing you to place bets as the game unfolds. If you're watching the match live (some bookmakers may provide a stream themselves, even for games not otherwise televised), you can use in-play betting to react to on-field developments. This may help give you some insight as to how the points scoring will fare in the rest of the game.