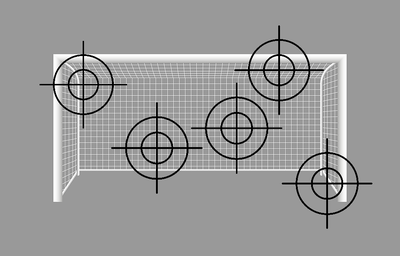 Football, like more and more things in life is becoming data-driven, with stats and numbers dominating analysis. We can see this in very different ways, from Brighton's incredible success in the transfer market to the way your friend won't stop talking about expected goals.
More and more different stats are being collected and collated from games and the world of betting has been far from immune to this rise in data. You can now bet on many of the different stats and metrics that are central to football and one of the most popular options involves shots on target.
There are many different bets that punters place that rely on shots on targets and here we will look at the most common. We will cover any core rules that apply to all, or some of these bets, as well as considering what strategy you should apply when trying to choose your picks.
Total Player Shots on Target
Perhaps the number one market in this area of betting is to back a specific player to have a certain number of shots on target. Different bookies will look at this market in slightly different ways, whilst the best football betting sites will offer various options. Typically you might have the choice of betting on a player to have at least a single shot on target, with higher odds available if you back over one (in other words two or more), and higher odds still if you opt for over two shots on target (so a minimum of three).
Games that are expected to be very one-sided, or that involve players like Erling Haaland or Lionel Messi, may have even higher options available. Alternatively some sites may have the option to make a more specific prediction about the number of shots, for example, Haaland to have exactly four shots, or Jack Grealish to have two or three shots on target. Ultimately though, whatever the market, it functions in a simple enough fashion, with bets settled according to how many shots on target each particular player registers.
Alternative Bets
There are various other player-based bets about shots on target, some of which are listed below and most of which are available at all of the top bookmakers
Exact shots – rather than backing at least one, two or more goals, this is a more specific wager on exactly how many shots on target a player will have.
Shot in both halves – back a player to have a shot on target in both halves
1st half – rather than looking at the game as a whole, this wager concerns whether a player will register over a certain number of shots on target in just the first period of the game.
2nd half – as above but for the second half
Shots from outside the area – does what it says on the tin – back a player for a shot on target from outside the penalty area. This may be found under specials and only offered for players likely to have go from range, and is typically priced at relatively lengthy odds
Headed shots – similar to the market above but only shots that are headers count.
Total Team Shots on Target
As well as betting on how many shots on target a certain player will have, there are also a host of markets that relate to team shots. These include:
Team total shots on target – how many shots a specific team will have in a given game, usually based on 'Over x' but sometimes with specific bands or totals offered
Team shots by half – as above but based on just the first half or just the second
Total match shots – how many shots on target will the match see in total
Total shots by half – the tally of both teams' shots but just for the first or second half
Shots on Target in Bet Builders
Shots on target is an area of betting that often features in Bet Builders. Most bookies offer a wide range of shot-based markets within their builders and they are a popular way to up the overall odds of your builder. In the La Liga Clasico you might, for example, back Jude Bellingham to have over two shots on target (so three or more), Robert Lewandowski to have one or more shot on target, Real Madrid to win, over 2.5 goals, and under 9.5 corners in the game.
Such a bet was priced at odds of almost 30/1 for the big game in October 2023. However, removing the Bellingham selection from the wager saw those odds drop to about 15/2, with over two shots on target often a big ask. Opting for a more modest one or more pick may be prudent if you intend adding several legs, but of course the bolder you are, the higher those odds will be.
Shots Betting
As well as making bets about shots on target, many top football betting sites allow punters to place wagers on shots in general. This includes both those on target and also off target. Naturally the odds are significantly shorter for all bets that depend on any shots, which can also make these markets a good pick for both accas and Bet Builders.
Many of the markets we have mentioned above in relation to shots on target are also available in this less restricted way. For player shots you will find that the options offered extend much higher, so for example if a bookie offers up to 3+ shots on target for a certain player, for all shots that might stretch to 6+. You will also find that for most attacking players, opting for simply 1+ (at least one) shot (on target or otherwise) is offered at a very short odds-on price. Indeed, even defenders will often by priced shorter than evens to register at least one attempt.
Note that blocked shots do not typically count in either market. A blocked shot is one that is stopped by a player but who is not the last line of defence – for example where the goalkeeper or another defender is behind them. Blocked shots do not count as on target or off target and have their own category, though not one that is typically offered as a betting option.
Rules to Note: What is a Shot on Target?
Perhaps the most important thing to be aware of when it comes to placing any bets on any of the markets we have mentioned is what actually constitutes a shot on target. Many bookies use Opta stats to settle lots of their markets but whether your bookmaker uses Opta, their own definition, or alternative third party, in general a shot on target is effort that:
Goes into the net, even if it was not a shot – intent is not questioned, so if a player strikes the ball and it goes in without a deflection, this is a shot on target, even if most viewers agree it was a cross or pass. Likewise, a deflection off an attacker that goes in, is a shot on target, even if they knew nothing about it
Is an attempt to score that would have gone in but is saved by the keeper or last defender – this differentiates blocked shots from shots on target. Any shot that is going in and is saved by the goalkeeper is a shot on target. Likewise, if a defender stops the ball going in and they are the last line of defence, this too is a shot on target. On the other hand, if a player blocks or clears a shot before it reaches the goalkeeper (or another defender) this is not a shot on target and is instead a blocked shot
There are clearly many different scenarios that could cause confusion and many of these are detailed by bookmakers and/or their third-party stats providers. However, note that shots that hit the post/bar are not classed as on target (unless they go in off the woodwork and are goals). In addition, be aware that where a shot is deflected and either goes in or is saved by the goalkeeper, this is a shot on target unless the initial shot was going wide or over. Perhaps the other main area of doubt concerns shots that were heading wide/over but that the keeper saves. These are not classed as shots on target.
The other key rules to note are not really rules as such but more a reminder to make sure you are betting on the market you want and understand what that is. For example, make sure you do not bet on player shots when you wanted to make a wager on team ones, or shots on target when you meant all shots. Or that you do not bet on total shots when you only meant first-half ones.
It is also vital to understand how many shots you are betting on as terminology, especially when it comes to specials and enhanced odds, can vary. "Over one shot" means two or more shots, whilst "At least one shot" means one or more shot and "1+ shots" or "One or more shots" both also win if there is at least one shot on target. Much of this might seem obvious but if you have any doubt about what exactly a wager entails, always check before staking your money.
Non-Starters and Subs
One final rule that fans should note applies to many player-based bets, including ones on goalscorers, tackles and similar. If your selected player starts a game, all bets will normally stand, even if they are taken off. On the other hand, if they do not play at all, usually your wager will be void and you will get your stake back. However, should your player come off the bench, the rules will vary according to the exact bet, state of the game and possibly the bookie too, but usually it will stand as normal, even if they only play for a matter of seconds.
It is also worth noting that some bookmakers treat these markets differently when they are part of a Bet Builder or acca. Sometimes your whole bet may be voided, whilst with other sites the relevant leg may simply be removed and the rest of the bet allowed to stand. Generally, therefore, it is best to place any shots on target wagers shortly before kick-off. This way you know the lineup and also minimise the chance of any very late changes due to injury or illness.
Strategy and Shots on Target
With so many markets and different options there is a lot to consider when it comes to these bets. There will always be a degree of luck in wagers like these but aside from all the usual tips about doing your research, looking for value and trying to spot something the market may have missed, we would give the following more general (though specific to this area of betting) advice.
Value hard to find – this is not a market that serious punters will often look to as finding value is very hard. Bets tend to sound far more appealing than they really are
Builders make it even tougher – builders are fun but the bookies love them too because they allow them to generate a high margin yet still attract customers. This is because they accentuate the issue raised above and complex propositions appear very probable, when in fact the chance of them winning is slim
Always wait for team news – as noted above, avoid any risk of your bet being made void, its chance of winning being reduced, or it being negatively impacted in another way, by only making such bets when the lineup is known
Less obvious routes – if a defender has been quietly promoted to penalty and free-kick duty, they may offer value if this is not widely known. Likewise if a defender is set to play higher up the pitch
Look more deeply into the stats – a side or player may be struggling on the face of it, yet their poor points and goals tallies could belie high xG and high shots/shots on target. Such teams, and footballers who play for them, may offer value in the shots markets
Shots on Target Stats
Partly in relation to what we have just said about these bets seeming more likely to win than perhaps they are, it is worth considering some stats. In general games in the Premier League see around eight or nine shots on target per game.
In the last complete season, the 2022/23 campaign, Brighton topped the charts with 232 shots on target. That equates to a substantial 6.1 per game. At the opposite end of the scale, Nottingham Forest had just 118, or 3.1 per clash. The average that year was 167.4 per team, or 4.4 per club, per match, or 8.8 each game in total.
Looking at shots, Brighton led the way again with 613, or more than 16 a game, with Bournemouth bottom on 358 (9.4 per match). In terms of players, only four Premier League players reached treble figures for shots, with Harry Kane firing off 130 and Mo Salah 123. Unsurprisingly, the same four players at the top for all shots, led for shots on target, as we can see below.
| Player | Shots On Target | Games | Shots On Target Per Game |
| --- | --- | --- | --- |
| Harry Kane | 63 | 38 | 1.66 |
| Erling Haaland | 60 | 35 | 1.71 |
| Marcus Rashford | 50 | 35 | 1.43 |
| Mo Salah | 47 | 38 | 1.24 |
Perhaps this table, more than any other stat, illustrates our point about shots on target being harder to come by than the average punter might think. Even the strikers with the most shots in the Premier League average well under two shots on target per game. Given there will be several matches where they register three, four or even more, it is obviously not that uncommon for even these players to only manage one, and sometimes not even that, shots on target.