One of the main aims in rugby is to score a try. This is the fastest way to score the most points in the game and it's celebrated like a goal would be in football.
The art of actually scoring a try is quite tough though. There aren't usually all that many per game (less than 5 on average) and given that there are 15 people on each team plus subs, that's over 30 players to choose from when betting on this market.
The market itself is very simple. You just need to choose the try scorer for the market that you are betting on. This is usually pretty obvious but can sometimes end up in a bit of a pile up, so if any clarification is needed it will go down as the official result from the source selected by the bookmaker that you use. It's worth noting that this isn't always the same source for each bookmaker, and whilst they very rarely if ever differ, it could happen, so make sure you are aware of which source they are using.
There are three try scorer markets that are most prevalent within rugby betting:
First try scorer – the player to score the first try of the game
Last try scorer – the player to score the last try of the game (this can also be the first try if only 1 try is scored in the match)
Anytime try scorer – this is for a player to score a try at any time in the match.
It's also worth noting that for each of these markets you are also going to be able to choose 'no try scorer'. This is clearly for games where you think no tries will be scored by either team.
If you are betting on tournaments such as The Six Nations, The World Cup and The Rugby Championship, then you will also be able to bet on the top try scorer overall for that tournament. This can often be quite congested, so be aware that dead heat rules will apply if two or more players are tied with most tries at the top.
Strategy
As ever, some strategy can be applied to the try scorer market and here are some of our favourites listed below.
Bet in play and utilise this data
There's actually a reasonable amount of data online relating to try scoring in rugby. It's taken some research just to find it, but we've been able to track down some interesting data taken from the IRB in 2013. You could argue that this is too dated to prove useful, but the game hasn't changed a huge amount in that time, so we think it's still relatable.
The study first looked at the percentage of tries that were scored when gaining possession within a certain area of the pitch. The numbers are as follows:
Within 22m = 39%
22m – 10m = 25%
10m to halfway = 11%
Within own half = 25%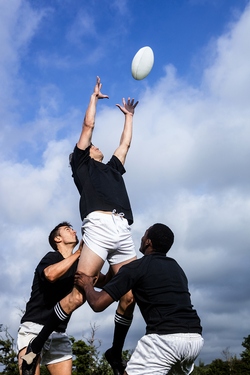 First thing to note here is that teams have a much higher percentage of scoring a try when they gain possession in the opposition's half with, 75% of the tries scored coming in this way. However, the key thing to note for us is that 39% of tries are scored when possession is taken within the oppositions 22m.
To relate that to betting, if you are betting in play and the ball is turned over within the 22m, start to look at likely candidates from that team who might score. This is where real world knowledge can really help you to make quick decisions. You can apply other strategies in this article to this same scenario, or you can even go more mainstream if you like simply by choosing next team to score or the like.
The next important figures that we wanted to talk through were the timings of the tries within the match. Here is the breakdown for you:
| | | |
| --- | --- | --- |
| Time (minutes) | First Half Tries | Second Half Tries |
| 0-5 | 9 | 8 |
| 5-10 | 9 | 5 |
| 10-15 | 8 | 7 |
| 15-20 | 8 | 7 |
| 20-25 | 7 | 10 |
| 30-35 | 9 | 12 |
| 35-40 | 7 | 5 |
| 40+ | 2 | 14 |
As you can see from this data, the majority of tries are scored in the 2nd half of the match. In fact, you could say that the majority are scored in the second half of the second half of the match, anywhere from 20 minutes into the second half onwards. Also note the high number of tries scored after 80 minutes, which is probably a stat that very few people would guess is a trend.
Apply this to your bets as you see fit, but we would say that it is better suited to markets like over/under points, knowing that more points are likely as the game goes on and even over/under total number of tries in the match.
Positions are key
The positions of players on a rugby team have a huge bearing on who is most likely to get a try. The backs are more likely to score on the whole over the forwards, but you can break this down further and say wingers and full backs are more likely to score than fly half's, scrum half's, and even centres.
You can narrow your picks to just these positions and this is going to really help you work through the massive number of players that you have to choose from.
However, the value is going to be in finding players that can score tries that aren't necessarily in these positions. The dream is to find an aggressive yet mobile forward who is able to score a few tries, as these are going to be much longer priced than your backs.
Team style of play
The team's style of play is another key area that needs to be addressed for this market, and one that is often overlooked. You need teams that go out and score lots of tries in an expansive and dynamic style.
These are the bets that you want to be placing and this allows you to get a wider range of value from players that you might not normally bet on. You can start to target teams that play their home games on artificial pitches too as we are seeing that these venues are experiencing a much higher points total on average over grass.
Generally, teams that overwhelm their opponents with attacking play are going to score lots of tries. New Zealand do just that on the international stage and this is why they have been so successful for so long. They also have a wide range of players who can crop up and score a try at any time, so when you compare that to less expansive teams, you are not only limiting your chances of a try being scored at all, but also limiting the pool of players that you're going to have to choose from.