Tournament betting with snooker is a little tougher than picking the winner of a single match, but it can be so much more rewarding financially. You're going to need to work a little harder though and sometimes think outside the box a little, but we are here to help you with that so you can find those outright winners.
The concept of the bet couldn't be simpler; all you need to do is pick the winner of the tournament that you are betting on and you are golden.
Snooker, like a lot of sports, has been dominated by a handful of players over the years. This has made it easier to pick a winner in one sense, but often the odds for those players are going to be very low, so in terms of value, there isn't an awful lot to be had.
Dominance of big name players
The names that have been able to dominate the sport at some point aren't exactly numerous. The easiest tournament for us to use as an example here is the World Championships, but you can assume these players have won many, many other ranking events and major tournaments in their time too.
The streaks of tournament dominance date back to the 1920's when Joe Davis was able to win a staggering 15 World Championship titles on the bounce from 1927 through to 1946. He still holds the record for most wins today. Following on from Joe Davis, you have Fred Davis winning 8 times from 1948 through to 1956, and then after this John Pulman also won 8 times from 1957 through to 1968.
The 70's was dominated by Ray Readon with 6 wins, the 80's by Steve Davis also with 6 wins, the 90's by Stephen Hendry with 7 wins and then from the turn of the Millennium you have the likes of Ronnie O'Sullivan (5), John Higgins (3), Mark Williams (3) and Mark Selby (3) all multiple winners of the tournament.
This theme carries over for a lot of the other major tournaments as well. It can be argued that it makes it easier to call these tournaments as the pool of players that usually win is pretty small, but the value comes from spotting the next dominating force before the bookies do, which what we will talk about next.
Strategy
Here are a few things that you can apply to your outright winner bets that should allow you to become more profitable.
The draw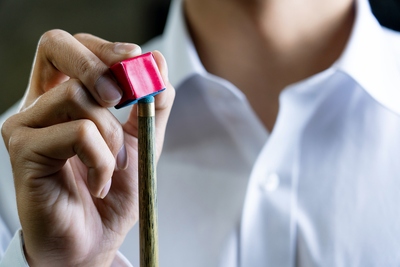 The draw can be huge in snooker and if you get a good one you have a much better chance of winning the whole thing. The ideal draw for a player is avoiding the big names or the highly ranked players on their way to the final. This is something that you obviously can't control, but you can react to it from a betting perspective.
For example, if one side of the draw has the likes of Ronnie O'Sullivan, John Higgins, and Judd Trump in it, then it's going be a much more positive bet to take a player from the other side of the draw as they won't have to play any of these great players until later on, when, hopefully, these guys will have ended up knocking each other out on the way. It only takes one upset to see the lot of them gone before you start to get into the money places for snooker betting.
A great tip for this is actually sitting down and creating some sort of wall chart of a possible route for each player. It's tough to do and time consuming too, but you can get a good idea of how each match up might go and then who each player will meet and at what stage.
You can start to look at which players are most likely to work their way through the pack. Bear in mind though that even favourites in the 'easier' side of the draw can be beaten. If this is the case, look to see which other players would prosper from this. It's not uncommon for proven players to be out at odds of 100.00 or even higher to make great runs in the majors, which of course offers huge value for the punter.
Back to lay
A popular strategy that we've had decent levels of success with is the back to lay process. This is where you are looking to back a player at the start of the event and then eventually lay them off as they progress.
For example, let's say that you back a player to win overall at odds of 20.00 before the start of the tournament. They do really well, and it gets down to the semi-finals. They are now priced at 5.00 to win. This would be a good time to lay off your bet and then lock in a profit on all other results. You can of course let it ride as they are obviously playing well to get to the semi's, but the beauty of the betting exchange is that you can adjust your bet in a way that makes money on all results, which is a great ability to have when betting.
The trick for this is finding fringe players who are slightly longer odds than the favourites.
You can see odds from the 2019 Riga Masters above, and Neil Robertson is favourite. You also have Mark Selby, Mark Williams, and Kyren Wilson, who are all pretty short favourites.
We actually want to be looking to try and find value from the bracket outside of this. A player like Gary Wilson, who is in great form, would be a really good bet for this process as they are a name that most people aren't all that familiar with, but he is also a player who is improving all the time and is on great form in the ranking events. He's also at a price point that would see him drastically reduce in price if he did well, which is exactly what we are looking for to lay him off.
Remember, you don't have to find players that are necessarily going to win it, but you want to find players that are at least capable of having a deep run (ideally semi-final minimum).
Be wary of shorter format tournaments
There has been an increase in recent years of shorter format matches and tournaments that are running. We've seen things like single frame shootouts and matches that include shot clocks played over just a couple of frames.
The problem with betting on these is that they can turn into a bit of a crapshoot and can be really tough to work with from a betting perspective. You see, anything can happen in these shorter format matches, which makes it hard to research and then make money from them.
Strategy is tough to apply, so it's for this reason that we would actually avoid these matches altogether and find something where your research has more of a bearing on who might actually go on to win.
Submerge yourself in the qualifiers
You have probably heard a few of those amazing stories where someone qualified for a tournament just a couple of days prior to starting and then went on to win it. Whilst these are great stories, the wins aren't flukes. People don't just become capable of beating the best players in the world overnight and then go on to win majors. They are well practiced players who just haven't found fame yet for whatever reason.
You can find a lot of really good bets from the qualifiers and also see who is playing well. You may even be surprised to see the calibre of the lesser known players that are trying to qualify, especially for the bigger tournaments.
Try and get to see as many of these matches as you can. You don't need to watch each of them live but get a look at scores and stats on each of the games to see who is playing well. You can find seriously good players that might not yet be household names but are in stunning form, and then they become crazy big prices to win overall.
You can then apply the back to lay strategy above, and what's great about the longer odds is that you won't need to progress all that many rounds for this price to come tumbling down and then be able to lock in a profit.