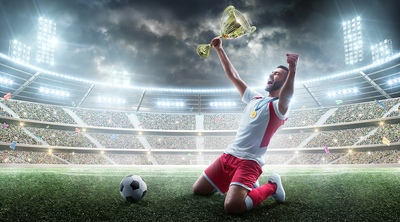 Betting on leagues and cups is another massively popular bet within football. That being said, it's also one of the hardest given how unpredictable the game can be.
From a betting point of view, you are not only able to bet on the winner, but also the place market which ties into each way betting, both of which we talk about later in the article. For bets to come in you need to have selected the winner, and although there are strategies where you can apply cash outs to these markets that offer good value, most people tend to let them ride throughout the season or competition.
One of the best things about these markets is that every bookmaker will offer them, so you can look for the best price. Each bookie will offer markets on leagues like the Premier League, Serie A, La Liga and other top European and domestic leagues. If you are looking for lower leagues though, then you may need to search a little harder in order to find a bookie that offers what you're looking for.
Competition is great for punters, as this means that their will be competition on pricing. You can often get quite high odds with these bets too, even for the favourites. Just looking quickly at the 2019/20 season for outright Premier League betting, and Man City are 1st priced at odds of 2.00, Liverpool 2nd at 3.25 then Tottenham are 3rd at a massive 17.00. These longer prices can still be lucrative with the right strategy applied.
Each way betting
Each way betting is a popular option that can be applied to outright betting. Whilst it's not a betting market that is often associated with football, this is one of few occasions where we think that it's well worth taking a look at.
An each way bet is a single bet broken into two parts; the first part is known as the "win" and the second part of the bet is known as the "place". You wager on two bets essentially, so if you bet £10 each way your total stake would be £20.
The win is self-explanatory in that you need your selection to win in order to get paid. The place part means that you need your selection to finish within a certain number of places to get paid – so 1st, 2nd or 3rd, for example. The place will be paid at a fraction of the original odds taken at the time of placing the bet.
When betting on the league most bookies will offer to pay out on the top two places for the place bet at ¼ of the starting price. So, if you took 10.00 odds for the win, then the place would pay out 2.50 which is ¼ of that price.
Cup matches will work in a very similar way, but the place will include a team to get the final, which would mean they are essentially paying top 2 places. There have been occasions when some bookies have paid semi-finalists (top 4) during promotions on these types place bets, although these are pretty rare.
Bear in mind that bookmakers place bets can range quite a bit in terms of percentage paid. Often you see either 1/4 or 1/3 odds. This may not seem like a lot, but it is, especially for the same odds on the same market. Always search for the higher place price where possible.
Example
We back Liverpool to win the Premier League at odds of 10.00. We stake £10 each way on that bet, meaning we have £10 on the win and £10 on the place with rules paying top 2 places at ¼ odds.
Scenario 1 – Liverpool win the league. This means that we win both bets. We take £10 x 10.00 = £100 from the win and then £10 x 2.50 = £25 from the place. This gives us a total return of £125.
Scenario 2 – Liverpool finish second. This means that we lost the win bet, which gives us negative £10. But we do win the place bet, which returns us £25. This means our total returns would be £25.
Strategy
League and cup outright betting is not the easiest to call, but there are a number of things that you can include as part of your strategy to try and win a little more often than you used to.
Timing
Timing is key with these bets and the markets can often react quite aggressively even to single results. It's an art in itself to time it correctly and if you can, you can make some serious money.
The most obvious place to start is at the beginning of the season for league betting. This is where everything is still quite fresh and lots of teams are making plenty of singings in an attempt to strengthen their squad. But, it's for this reason that we like to avoid this time of year as it can be quite unpredictable.
We like to really dive into the league market when there have been 5-10 games played by each team. You can start to get a really good feel for how each team has performed in the transfer market and who will be a strong team to back. It might be that you are too late here and the favourites are already clear at the top, but don't forget that you can still bet on place bets, as well as relegation and European qualification as well.
Cash out?
Cash out is another feature that we like to include with these types of markets. Again, it's another one where you are going to have to feel your way around somewhat, but we do like to utilise out a cash out with these sorts of bets.
A good ploy is to target some of the teams just behind the favourites. In the Premier League right now this would be the likes of Arsenal, Chelsea, Tottenham and Manchester United, who aren't quite as strong as Liverpool and Man City.
If you able to pick the best of this bunch and they get off to a good start, then cash out prices can often be quite favourable. These generally aren't markets that will adjust too much at the start of the season, but as the season wears on and especially if one or both of the favourites are faltering, there should be plenty of opportunity to cash out and lock in a profit.
The reason why we won't always let these bets ride is that it's actually really hard to close out a League title. There's been countless occasions where teams have been plenty of points clear coming into the last 8-10 games and blown it down to pressure. This way, we can take a profit and then move on.
Target segmental and without bets
A side market to league and cup bets are that of betting without markets. This is where you can bet on a market without a certain team's presence counting towards the bet. What happens is that the bookmaker removes one team from the pool, usually the favourite, and then the market plays out without that team.
At the end of the season or the cup campaign, if the removed team have won the league then the next ranked team will be declared the winner for that market. For example, if you back Liverpool to win in the 'Betting without Man City' market and they finish second to City, then your bet would win as City would be removed for the sake of that bet.
It can really pay dividends to target betting markets that exclude certain teams. Betting without the two or more teams, or even betting for teams to finish within a certain bracket of positions can offer much better value than the outright winner where it's only really plausible that a couple of teams can realistically win.
The Premier League right now is a great example of that. Betting against either Liverpool or Man City is going to be really tough given how dominant they were the previous season. But if you bet on a market where these two are removed then you have 4 or 5 teams that are going to be much more competitive within their own little cluster. You will also find that the odds for each are much higher than the two favourites because of it being more competitive.
Target lower leagues
We've spoken quite a bit about the bigger leagues, such as the Premier League and how tied up that the market is with just a couple teams being able to feasibly win. But, when you move down the leagues it's much wider open, which means it is harder to call, however you get much more for your money when you get it right.
Just to quickly compare, in the 2019/20 season the favourite for the Premier League is priced at 1.66, whereas the favourite for the Championship is priced at 6.00. in fact, there are 12 teams priced at 21.00 or less, which is half the field.
The longer prices mean that you can implement the strategies outlined in both the "timing" and "cash out" sections above, given that the returns are going to be that much higher.
Also, this is not really related, but some bookies pay out 3 places with lower leagues as they have more teams, so bear that in mind if you're on the each way or place markets.