One of the pinnacles of the game for a lot of players is being able to score a 147 break in competition play. It's extremely tough and there are only a handful scored each season, so from a betting point of view it's hard to really justify, however, let's try and apply some data to it to see if there is any value in the bet at all.
15 red, 15 black, then all the colours. Sounds pretty easy, but it's not. It's really not. It's incredibly tough and even the top players will admit that you need a bit of luck along the way. You also need a lot of bottle to even take them on. You see, to score a 147 at some point you have to risk losing the frame. At some point the player is going to need to pull out an amazing shot (or several) to get over the line.
The reality is that a player needs a lot of things to go their way to achieve a maximum break and sometimes it's more important to win the frame rather than go for the glory of a 147.
There is also money on the line for achieving this feat within most tournaments. Tournaments like the World Championships have actually just increased their prize money to £50,000 for any player who scores a 147, a £10,000 increase from the previous year.
It's the prize money that gives players the incentive to go on and try to score them. It's the tournaments dangling the carrot, if you will, in order to lure players to going for the big scores to create exciting games. But if you think about this from a betting point of view, the prize money means that many more players are going to be tempted to go for it, which may mean that the bet has more value.
What's been even more interesting in the past has been players turning down the chance to go for a 147 because they deemed it 'too cheap'. This famously came about in 2016 when Ronnie O'Sullivan was on for the 147, asked how much the prize was half way through his break, stated that it wasn't enough, and then decided to take the pink and not the black that would leave him on for a 147. Granted, this is a rare occurrence, but it does show how much the prize money means to these players.
How often do they happen?
These breaks aren't as rare as they once were as the calibre of players is starting to increase across the whole sport, so more of them are capable of it but might also be more inclined to go for it to increase their profile.
That being said, 147's are still pretty elusive so you shouldn't expect to see them in every game.
Below we have outlined the last 10 seasons in terms of professional snooker events and the number of 147's made.
| Season | No. of 147's |
| --- | --- |
| 2018-19 | 12 |
| 2017-18 | 8 |
| 2016-17 | 13 |
| 2015-16 | 4 |
| 2014-15 | 9 |
| 2013-14 | 8 |
| 2012-13 | 9 |
| 2011-12 | 11 |
| 2010-11 | 7 |
| 2009-10 | 2 |
As you can see, the number of 147's are increasing over the last decade or so. Although, there are anomalies in there that mean that it's not a perfect increase year on year, the 2015-16 season being an example of this.
On average there are around 46 tournaments per season in professional snooker. So, if we took our data from the latest 2018-19 season this means that there's a 147 once in every 4 tournaments, which is actually fairly high.
Which players have scored the most 147 breaks?
Ronnie Sullivan is out front with 15 career 147's to his name and some 4 ahead of that of 2nd place, Stephen Hendry.
Both names that we are sure you will recognise.
There are 74 players in total who have scored a 147 at some point in their career, which gives you some insight as to how rare it is.
Here is a list of the top 10 and how many times they have achieved it as of 2019.
| Player | No. of 147's scored |
| --- | --- |
| Ronnie O'Sullivan | 15 |
| Stephen Hendry | 11 |
| John Higgins | 8 |
| Ding Junhui | 6 |
| Stuart Bingham | 5 |
| Shaun Murphy | 5 |
| Tom Ford | 4 |
| Marco Fu | 4 |
| Neil Robertson | 4 |
| Judd Trump | 4 |
What's probably most notable about this table is that all but 1 of those players (Stephen Hendry) are still active and playing today. This shows that the modern game has seen a much greater number of 147's overall and this trend is likely to continue over the coming years and even decades.
Strategy
First thing we want to note is if there is any value when betting on the 147 in a tournament. Given that we know that it occurs in roughly 1 in 4 events, this at least gives us the odds for it to occur so we can then base our calculations off that.
Ladbrokes are currently offering 11/8 for a 147 in the World Championships. This looks a little low on price to us and even though this tournament offers the greatest chance of having one given that it's the longest, to offer not much better than even money is little tight.
It's going to be tournament specific each time though, and the longer formats will always yield more potential. You now know that you need somewhere around 4/1 for it to be good value and if you can find this price, then by all means go for it.
Incentive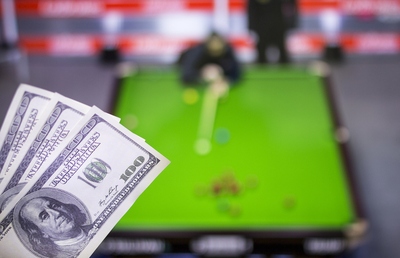 The biggest lure for the 147 is some sort of incentive and for this we are mainly looking at prize money. As stated, the World Championships have over £50,000 up for grabs which is a huge amount. A semi-finalist will 'only' get £100,000 if they were to get knocked out at this point, so it's a significant amount of money comparatively. You could argue that this is one reason that the World Championship price is 11/8 for a 147, but we still feel it's on the low side.
Usually, for tour events there is a rolling pot of money that is added to by the event organisers, based on the size. This can start as low as £5,000, so if someone has won the week before, then the pot is going to be small. However, if you look how inconsistent these scores can be throughout the season, they can soon rise.
Given that so many of these players are now extremely wealthy anyway, the prestige of getting a 147 is enough for most. You would have to argue that most will do all they can to try and get one, especially given how rare they are. The monetary incentive is a nice addition no doubt, but all snooker players really want to score a 147 for bragging rights, whether it comes with an extra £50k or nothing.
Field size
You need to be aware of the field size for each event as well. The fact is that the more players, the more matches, and the more frames there are, the more chances there will be of a 147 occurring in that tournament.
The UK Championship comes in with 128 players overall and starts from the best of 11 frames for each of those. Compare that with The Masters, which includes just 16 players, and you are going to be much better off backing the longer format to see a 147 at any time during the competition.
You do need to bear in mind though that the odds for the UK Championships are going to be much shorter than those of The Masters as there is more chance of it happening here. It's for this reason that it's important to take note of the possibility of a 147 given the field size on offer and the number of frames that will be played.