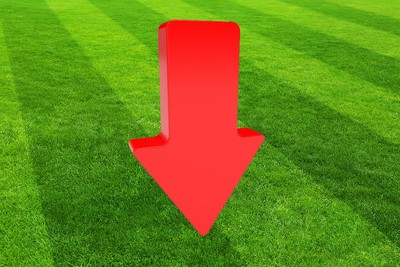 Relegation betting is a very popular type of football betting. It falls under the more general area of outright wagering, which basically means you are not punting on a single match, but rather a more long-term outcome. In this case, unsurprisingly, that long-term outcome is relegation.
Relegation will only be offered in leagues where relegation is a possibility. As such, you will not see any relegation markets in the FA Cup, Champions League or any cups, whilst any league competition or tournament that adopts a US-style model without demotion will also not have these types of bets.
The main type of relegation wager we will look at is a simple bet on a team to go down. Some punters may think this is all there is to relegation betting – just place a bet on a side that you think will be relegated in a particular season. If they go down, by any means, your bet wins, whilst if they stay up, you don't.
However, as we will see, there are various other related markets that can be classified – in a wider sense – as relegation bets. We will provide details of those, as well as any key rules you should be aware of when making bets on all of these markets.
What is Relegation Betting?
Relegation and promotion are part of what football so exciting. Whilst chasing titles and cup wins is the ultimate goal, for many teams around the world, and especially in the Premier League, simply avoiding relegation is their number one aim. At the start of any campaign, avoiding the drop is the first, and most important target. Managers will want to get to 36, 38 or 40 points as quickly as possible and only then can they start to set their heights higher.
This is the case for around as many as 12 or 13 teams in the English top flight, which means that those sides are all very much worth considering when it comes to relegation betting. The main market we are discussing here is, as said, a simple wager on one team to be relegated. You may see it listed as "Relegation", "To be Relegated", "To go Down" or similar but whatever it is called the rules are the same.
This is a bet that can be made ante post, which is to say before the season starts, and also at most points throughout the season. Obviously once a team is mathematically guaranteed to either stay up or go down, you will not be offered the chance to back that team for the drop.
The odds will change during the season and some betting sites may suspend the market whilst any teams are playing, especially if there are key clashes taking place involving sides at the bottom. Some bookmakers will leave the markets open though, effectively creating an in-play-type-outright. At the end of the season such markets might see very dramatic changes in the odds as just a single goal on the last day could make all the difference to who goes down, and with all 10 games taking place simultaneously there are lots of different scenarios possible. This is hugely exciting – and agonising – for both supporters and those that have backed a team to go down.
Odds
The odds for this market will usually see a couple of teams begin the season as odds-on favourites for the drop. In the PL, and many other leagues around the world, these are often teams that were promoted to the league that year. For example, ahead of the 2023/24 Premier League campaign, new boys Luton were clear favourites to go straight back down, priced at 1/3. Sheffield United were next at 8/11, with the third side to come up fancied to stay up, available at 2/1 for relegation. Bournemouth were 7/4, with Forest 5/2, Everton 3/1 and Wolves and Fulham both 7/2.
After eight games those odds had changed quite significantly, as can be seen above. At that stage, there were eight sides priced at 6/1 or lower, with the ninth team, Brentford at 12/1, tenth team Crystal Palace at 16/1, and the field 66/1 bar. So whilst we mentioned earlier about most sides simply targeting survival, and managers and owners often saying the same, as far as the bookies are concerned, the relegation battle is probably a case of three teams from eight, or three from 10 at the most.
Other Relegation Betting Markets
There are various other relegation-based markets offered by the best football betting sites around. Some of these are highlighted below, though certain bookies may have further specials as well and not all sites will price up all the bets listed here.
To finish bottom – if you think a team are nailed on for the drop but want a bigger price, backing them to finish 20th (in the PL) might be a good call. This market works just like the main relegation one but your chosen side must finish rock bottom for you to win.
Tricast/treble – to really increase your odds you can try and predict the three teams that will be relegated. This will often be offered as a bet in the three sides in the correct order or as an easier bet where you just have to name the teams but they can finish in any order in the relegation zone. Leagues where just two teams are relegated offer a similar forecast/double.
Not to be relegated – also sometimes listed as "To stay up", this is the opposite of the main relegation bet. Rather than back a side to be demoted, you are wagering on them to finish outside the relegation zone and stay up.
Bottom at Christmas – being bottom at Christmas has long been a good indication that a club will be relegated come the end of the season. Backing a team to be bottom at Christmas is a shorter-term outright that pays out if your chosen team are bottom of the pile on Christmas Day.
Relegation Betting Rules
There aren't too many rules to note when it comes to these types of bets. However, one major issue to be aware of is to understand the difference between a side being demoted for off-pitch misdemeanours and a team being punished by a points deduction for the same sort of issue which then leads to them being relegated.
As with most rules, there can be some variation between different bookies and there will sometimes be grey areas that have to be dealt with on a case-by-case basis. However, in general, where a points deduction means a team finish in the relegation zone, this will be treated as normal and bets on them to go down will be settled as winners.
In contrast, if a team is demoted automatically for a more serious infringement, or in some way disqualified or excluded from the league, things are different. Should this action take place before the season has begun, all bets on the whole market will be voided. As such, whether you backed that particular side to go down, or a rival team, your stake will be returned. A new market will be created and then you will have the option to make bets as you wish at the new prices.
Should a team be disqualified/demoted/thrown out during the season, whether that becomes effective immediately or at the conclusion of the campaign, wagers on that side only will be voided. Other bets will be settled as normal.
One grey area could be that due to a side being demoted automatically by the authorities, fewer teams than normal are relegated based on their points tallies. In the Premier League, for example, the side that finished 18th might stay up where normally they would go down. Typically we would expect a bookie only to pay out on the two sides who were relegated due to their on-field results and wagers on the side finishing 18th to be winners in the "No to be relegated" market instead. As usual, if you have any doubts, contact the bookmaker's customer service team.
Strategy
When it comes to relegation betting you really are having to look at the widest picture possible. If you are placing your bets pre-season on the Championship, for example, you have to consider how 24 teams will perform over a total of 552 games. You also have two transfer windows to think about, so some punters prefer to place their bets only once the summer window is closed.
Squad Strength
You must assess the strength and experience of the likely starting XI, plus the depth of the squad and the ability of the manager. But over the course of a season luck will play its part, especially when it comes to injuries, so even the best-thought-out bets can easily come a cropper. Fans tend to get excited when their team signs a raft of new players but this is not always a good thing. A smaller squad with more unity with players who already know each other and understand the club and the manager's system may prove better able to avoid relegation than 15 new signings with no experience of the league.
Fixtures
If you are making your relegation wagers during the season, one key factor to consider is the fixture list. It does not always follow that easy-on-paper fixtures yield more points than supposedly tougher games but it often does. A team that has struggled for the first 10 games may offer value to stay up if those opening fixtures were split 4/6 in terms of home/away and were all against top-10 teams. Likewise, backing a team in 14th to be relegated may offer value if the table is tight and their last eight games are all very tricky.
If we look at Crystal Palace in the 2022/23 season, they opted to sack Patrick Vieira on 17th March 2023. A large factor in that decision was the fear of relegation. They were on a poor run, having taken just five points from 12 games (including one on 19th March) when Roy Hodgson was appointed on 21st March. However, those 12 games included playing Spurs, Chelsea, Man United twice, Newcastle, Brighton twice, Liverpool, Man City and Arsenal. Eight of the 12 matches were against teams who would finish in the top six, whilst they also played Chelsea, plus the teams that finished seventh, eighth and ninth. Plus Chelsea!
That was incredibly tough but the fixtures ahead were far easier. After the Arsenal game, Palace took 18 points from 10 games, with eight of those clashes coming against teams that would fill the bottom eight. This shows us that paying attention to the fixture list can prove very important when placing relegation bets during the season.
Premier League Relegation Stats and Facts
One other key thing to consider when attempting to unpick the puzzle of relegation betting is the stats. That said, the following stats and facts are intended more as points of interest than any particularly insightful strategy. In addition, these apply to the Premier League only, not wider relegation betting.
Magic 40 points is a myth – since it was reduced to 20 teams in 1995/96, 40 points (or more) has only been required to avoid relegation on four occasions. On average 36 points is enough, with that number or fewer proving sufficient for survival in nine campaigns
Eleven wins a new magic mark? – if 40 points, and even 38 points, are not true targets for Premier League survival, what is? Eleven wins, that's what. No team has ever gone down in a 38-game PL campaign with that many victories on the board
All newly promoted clubs not doomed – two, or even three of the promoted sides are typically favourites for automatic relegation. However, only once in PL history have all three promoted teams been relegated the following season (Barnsley, Bolton and Charlton at the end of the 1997/98 campaign)
But at least one probably is – in 2022/23 something unusual happened: Nottingham Forest, Fulham and Bournemouth, the three newcomers to the division, all stayed up. This was just the fourth time this had happened, so usually at least one, and sometimes two, will drop straight back down
Bottom at Christmas a curse no more? – from the first PL season in 1992/92 until the start of the 2004/05 campaign, the team bottom at Christmas had been relegated. West Brom broke that trend in May 2005 but since then Sunderland, Leicester and Wolves have all emulated them. Is the curse dead and buried?